Campaign: June 1st – 17th, 2017
Workshop: June 7th – 8th, 2017
The Lunar Photometry Intercomparation Campaign is organized by Izaña Atmospheric Research Center (IARC) of the Spanish Meteorological Agency (AEMET) and the Atmospheric Optics Group of Valladolid University (GOA-UVa).
This campaign will take place at the Izaña Atmospheric Observatory on June 1st – 17th, 2017. The objective of the campaign is to compare the nighttime aerosol optical depth (AOD) of the participating instruments by using light from moon or stars, and to evaluate the uncertainty from the different methodologies. A parallel Workshop will take place at Izaña on June 7th and 8th, focused on the analysis of lunar photometry measures.
Attendance at the campaign is by invitation only, but any researcher active in this area is welcome to apply to attend the meeting via email. If you are interested to join the campaign, please contact the organizers Carlos Toledano (toledano@goa.uva.es) or Emilio Cuevas (ecuevasa@aemet.es). For shipment and operational matters please contact Natalia Prats (npratsp@aemet.es).
All participants are kindly requested to confirm their participation by filling in the on-line form.
Information Notes for Participants
Izaña Observatory
Agenda
Inscription Form
Instrument Shipment
Rooms & Meals
The Izaña Atmospheric Observatory is at the island of Tenerife at 28º18'N, 16º29'W, 2367 m a.s.l. The Observatory is located on the top of a mountain plateau in a pre-national park area (Teide National Park) that is environmentally protected by the "Sky Law". The Observatory is normally above a temperature inversion layer, generally well established over the island, and so free of local anthropoge­nic influences.
For information on current weather conditions you can access the Observatory website and the webcams installed at Izaña. There is also an automatic weather forecast as well as warnings of adverse meteorological conditions. For the automatic weather forecast user and password is required.
If you have any questions about the campaign/workshop, please contact campaign staff for assistance.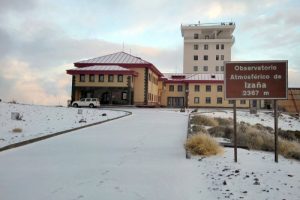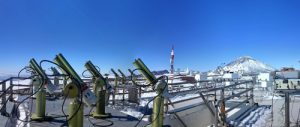 Workshop Agenda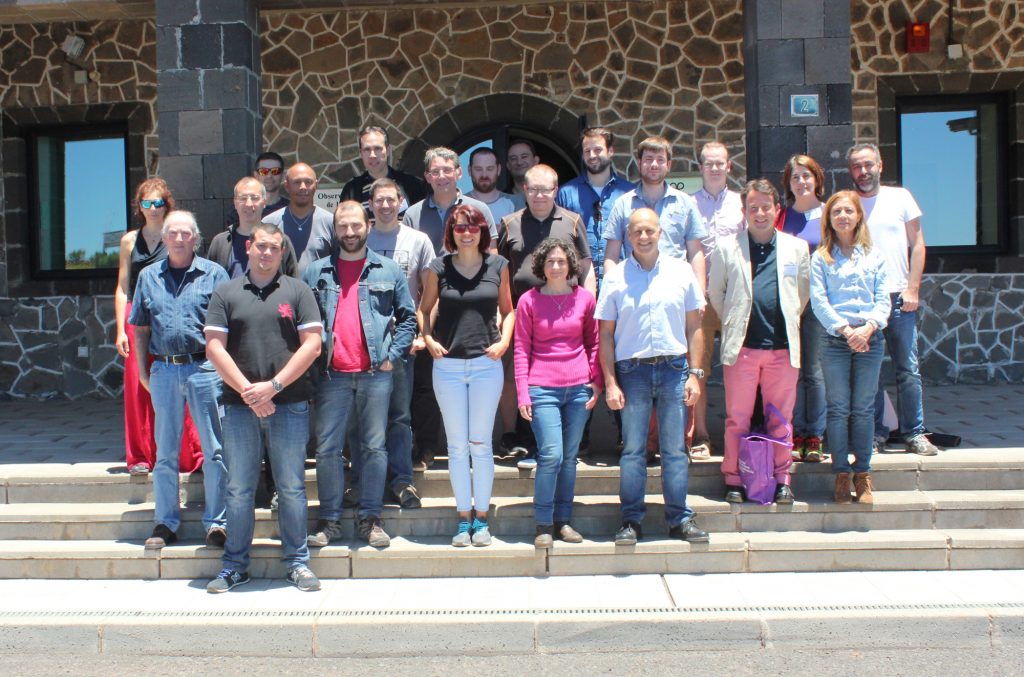 Download presentations (password required)
| 7 June 2017 | Topic |
| --- | --- |
| 09:00-10:00 | Welcome and Overview |
| 10:00-11:00 | Instrument Development |
| 11:00-11:30 | Coffee break |
| 11:30-13:00 | ROLO and AOD retrieval. Results. |
| 13:00-14:30 | Lunch |
| 14:30-16:00 | Visit to the observatory. |
| 16:00-16:50 | ROLO and AOD retrieval. Results. |
| 16:50-17:30 | Open Discussion |
| | |
| 20:00 | Dinner |
| 8 June 2017 | Topic |
| 09:00-09:30 | Field campaign status |
| 09:30-10:30 | Networks |
| 10:30-11:00 | Coffee break |
| 11:00-13:00 | Star photometer and Synergy |
| 13:00-14:30 | Lunch |
| 14:30-15:10 | Star photometer and Synergy |
| 15:10-15:50 | Open Discussion, Summary |
| 15:50-16:30 | Projection of the documentary "Izaña, the place to find the answers" |
The Canary Islands are not part of European Community territory for the purposes of VAT (see Taxation and Customs Union). We don't have VAT and we apply our local tax IGIC. For this reason, to move goods it is always necessary to carry out a customs clearance, both for exportation and for importation, even for European shipments.
There are two options for the custom clearance when import instruments to Izaña Observatory:
It is understood that the sending institution bears all costs of the shipment until the observatory is reached. Please use DDP (Delivered duty paid) as term of payment and delivery to avoid any additional costs that we are not prepared to pay. Please send us the tracking number for verification.
When planning the shipment, keep in mind that customs clearance formalities may require additional transit time.
Delivery address of the instruments:
Ramón Ramos
Jefe de Sistemas Básicos
Observatorio Atmosférico de Izaña – AEMET
Crt Gral La Esperanza – El portillo KM 37.5
38311 La Orotava (Santa Cruz de Tenerife)
Spain
Tel: +34 922373878
To stay at the Izaña Atmospheric Observatory it is recommended to rent a car as there is no public transport. Remember that the Observatory is located at an isolated area, and the nearest supermarket is at La Esperanza, about 50 minutes drive away.
At the Izaña Atmospheric Observatory there is a small residence on the 2nd floor, with 6 double rooms. These rooms are reserved during the campaign to those groups operating non-automatic instrumentation. The residence has a small kitchen where you can use a microwave but not really cook. The Observatory has also a kitchen and dining room at ground floor reserved for the observatory staff. Please, where possible, use the 2nd floor kitchen.
You can also book a room at the IAC (Astrophysics Observatory) which is only 2km away from the Izaña Atmospheric Observatory. The Astrophysics Observatory, can also provide meals (lunch and dinner). Both services requires online registration. If you choose to book in the IAC, please let us know and fill out the online form with your personal data as well as the following options:
Proyecto IAC: (000000) Privado. No IAC
Relación IAC / IAC relation: LUNAR campaign at AEMET
Telescopio de trabajo / Working Telescope: Administración (By default)
Please remember that reservations of menu at the IAC restaurant must always be made before 10:30 for lunch and before 15:00 for dinner. You can find here more info about services at the IAC residence and restaurant.
This campaign is supported by the European project ACTRIS-2 (GA654109), part of the European Union's Horizon 2020 research and innovation programme, and the Spanish project Polarmoon (CTM2015-66742-R), founded by the Spanish Ministry of Economy, Industry and Competitiveness (MINECO) and the European Regional Development Fund (ERDF).